This means that Harcourt declares itself to be fully inclusive of people of all sexual orientations and gender identities — and we back up our words with action.
Click below to watch a video of our Affirming Church by our 2022 summer student. The video features interviews from members of the Harcourt Community, including LGBTQIA+ folks and members of the Rainbow Chorus of Waterloo-Wellington.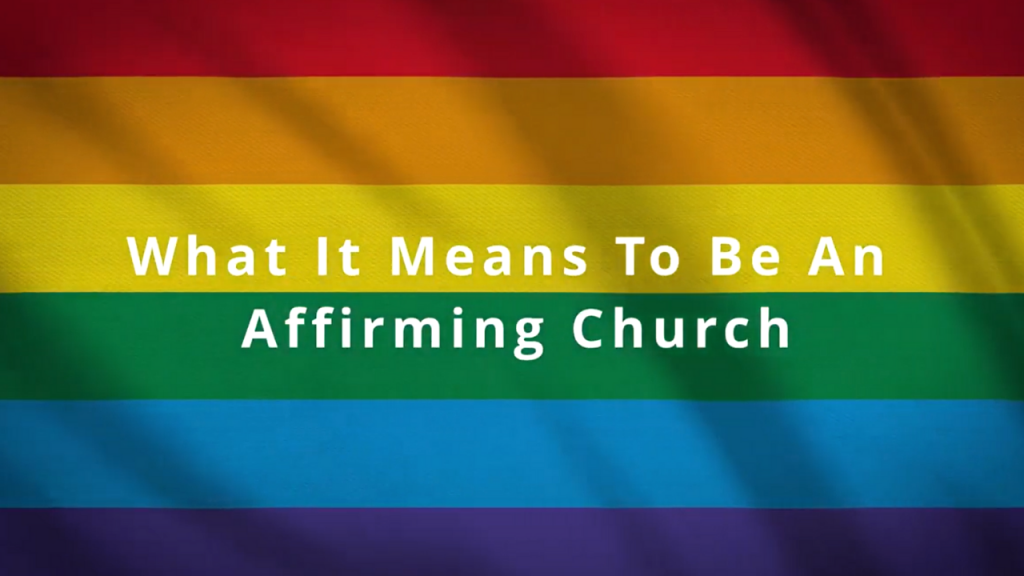 Harcourt's journey to becoming an Affirming Congregation
Becoming an affirming congregation requires much thought and preparation. Here is a brief history of Harcourt's journey:
January 2001 – The Harcourt Council passed a motion to establish an ad hoc committee to explore what it might entail to become an affirming congregation, one that explicitly welcomes everyone, regardless of sexual orientation. The committee presented its report to Council in May, and the Council decided to enter the process.
Autumn 2001 – The Affirming Congregation Steering Committee, established in October,developed a long and careful process that included educational events, a bulletin board and bookshelf, newsletter reports, and several forums.
May 2003 – The Affirming Congregation Steering Committee submitted its final report to the Church Council, but it was too late in the season to bring the recommendations to a congregational meeting. During the next months, however, much work was done studying and developing Harcourt's positioning statement, mission statement, and core values.
February 2004 – At its annual congregational meeting, Harcourt accepted the new mission document with its positioning statement ("Rejoice, Renew, Reach Out"), mission statement, core values, and behavioural covenant. The congregation also established an ad hoc Implementation Committee to monitor Harcourt's faithfulness to its decisions.
February 2005 – It was clear by the time of the Annual Congregational Meeting that the Harcourt congregation was able to live according to these values. A strong majority voted that Harcourt become an affirming congregation, and a service on April 3, 2005, Harcourt celebrated its new status as an affirming ministry. We have continued to affirm our mission as an Affirming Congregation at an annual Affirming Ministry service, usually in May.