Re-entry Planning Group Update: November 24

To read the update, please visit the home page of our website where you will find the announcement at the bottom of the page.
---
9:45 Music & Message Our theme is Fourth Sunday after Epiphany and worship will be led by Rev. Kate Ballagh-Steeper. Scripture is Micah 6:1-8 and I Corinthians 1:18-31. You can join us in person or by live stream/recording by clicking the image below.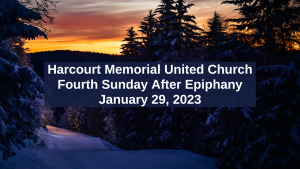 10:45 Harcourt Cafe Join us for social time and refreshments!
11:00 Manna All-age Service Join us for a bit of summer camp fun in the winter! Come and meet around our indoor campfire. We will be exploring our Micah theme 'Act justly' through a game-show style game, music and discussion. We will finish with a summer camp snack.
2:00 Covenanting Service See invitation below for details and click to access the livestream.